Tuesday, June 30, 2015
CDC Admits Polio Vaccine Tainted with Cancer Causing Virus | The Healthy Home Economist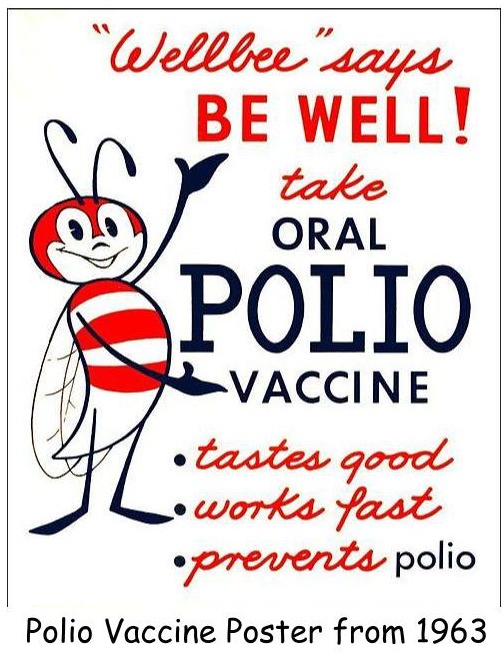 This is one of the most outrageous vaccination stories I've ever come across. The CDC posted on its own website (which was taken down shortly after this post went viral.
Click here for an internet archived copy
) that as many as 30 million Americans could be at risk for developing cancer due to polio vaccine tainted with Simian Virus 40 (SV40) found in some species of monkey.
This story is not new – many of of us who thoroughly researched the vaccination issue before choosing whether or not to immunize were already aware of this fact years ago.
I became aware of the tainted polio vaccines from 1955-1963 in the late 1990's and it was one of the primary motivators for me to choose a "no shots, no way" approach for my children.
What is new is that the CDC is finally admitting it.
What took you so long CDC? Many of the folks vaccinated with the tainted polio stock are already dead from cancer with many more getting diagnosed each and every day!
Monday, June 29, 2015
Neocons Urge Embrace of Al Qaeda | Global Research - Centre for Research on Globalization
The latest neocon gambit is to build support for "regime change" in Syria by downplaying the evils of Al Qaeda, rebranding it as some sort of "moderate" terrorist force whose Syrian affiliate is acceptable to Israel and supported by Saudi Arabia. But this audacious argument ignores reality.
Just nine days after the fall of the World Trade Center, George W. Bush
announced
that he was imposing a radical new policy on virtually the entire globe: "Every nation, in every region, now has a decision to make. Either you are with us, or you are with the terrorists. From this day forward, any nation that continues to harbor or support terrorism will be regarded by the United States as a hostile regime."
As dramatic as the statement was, just about every phrase was open to question in one form or another. But rather than launching into a long and vigorous debate about the meaning of terrorism or America's right to impose diktat on the world at large, congressmen turned their minds off and gave Bush a standing ovation.
Today, the same Bush Doctrine is sinking beneath the waves as a growing portion of the punditocracy declares that some forms of terrorism are better than others and that harboring a terrorist may not be so bad if it advances U.S. interests. But once again, the response is not questioning, debate, or even applause, but silence.
The latest evidence of a sea change in establishment thinking is a blog that Ahmed Rashid, a prominent Middle East correspondent, recently published on
The New York Review of Books
website. Entitled "
Why We Need al-Qaeda
," it argues that Al Qaeda and its Syrian affiliate, Al Nusra, are evolving in a more moderate direction in growing contrast to its rival, the super-violent Islamic State. So why not use Al Nusra as a counterforce against both Bashar al-Assad and ISIS?
As Rashid puts it: "Unlike ISIS, which demands absolute subjugation of the inhabitants of any territory it conquers (surrender or be executed), al-Nusra is cooperating with other anti-Assad groups and recently joined the 'Army of Conquest' alliance of rebel militias in northern Syria. Moreover, in contrast to ISIS's
largely international and non-Syrian fighting force, al-Nusra's fighters are almost wholly Syrian, making them both more reliable and more committed to Syria's future.
Computer system have a collective intelligence, working under a collective "AI" or artificial intelliegenec. Some financial centres, have a quantum computer , derived from the alien black goo. The square wave signal in computers have a direct connection with this alien black goo, due to their scalar signature. The use of synthetic RNA as a bio-weapon, in Iraq War 2. All point to the creation of a synthetic bio race, with no empathy or 'feelings'
Smart Dust and Bio Robots. Bio-Photons is the food for these octo-form creatures. But the earth, or mother nature is neutralizing this alien black goo so it has a balanced positive nature. Too bad to be true, too good to be true?
Die US-Entwicklungsbehörde USAID behauptet in einem Werbevideo, dass sie in Afghanistan über 700 Schulen gebaut und damit einen wichtigen Beitrag zur Bildungssituation in dem Land geleistet hat. Allerdings trüben Aussagen des neuen afghanischen Bildungsministers diese Erfolgsmeldungen. Laut ihm handelt es sich bei vielen Schulden um sogenannte "Geisterschulen", die lediglich auf dem Papier existieren. RT sprach mit einem ehemaligen Gutachter von USAID-Programmen in Afghanistan. Er sagte gegenüber RT, dass diese Situation seit Jahren bekannt sei, allerdings keine Konsequenzen gezogen werden, "aus Angst vor schlechter Presse." Es ist nicht der einzige Fall von Korruption und Verschwendung von US-Steuergeldern in Afghanistan. Erst kürzlich hat das Pentagon eingestehen müssen, dass es nicht Auskunft gegen kann über den Verbleib von 54 Milliarden US-Dollar.
Mehr auf unserer Webseite:
http://rtdeutsch.com
An Inadvertent Warning From BlackRock - Get Your Money Out Of Mutual Funds ASAP | Zero Hedge
BlackRock Inc. is seeking government clearance to set up an internal program in which mutual funds that get hit with client redemptions could temporarily borrow money from sister funds that are flush with cash.
–
Bloomberg News
We may have been early on warning about leaving your savings in the financial system. It's okay to be too early getting your money out of the system but it's fatal to be just one second too late. The gates are already in place in money market funds just waiting for the signal to be lowered
BlackRock's filing with the SEC to enable "have cash" funds to lend to "heavy redemption" funds should send shivers down the spine of anyone with funds invested in any BlackRock fund. In fact, it should horrify anyone invested in any mutual fund.
Larry Fink, BlackRock's chief executive officer, said in December that U.S. bond funds face increased volatility, adding that he expected a "dysfunctional market" lasting days or even weeks within the next two years
. – Bloomberg
I warned last summer when the money market funds received authorization to put redemption gates in place that it was time to remove your money from these instruments. The only reason a gate would be needed is if the people running the funds believed that there were risk events coming that would necessitate the gates.
BlackRock has already arranged credit lines from banks to cover the possibility of a redemption stampede from its riskier funds. It's clear the elitists running BlackRock now foresee events coming that will trigger a redemption run because the fund company is seeking SEC approval for the ability to take cash from funds with cash and lend that cash to funds that will need cash when the redemption rush begins.
Rather than let the market decide the value of the investments in BlackRock's riskier funds, Larry Fink is going add even more leverage to the equation by enabling riskier funds to take on debt in order to avoid having to sell positions into a market that won't be able to handle the selling. This adds yet another layer of fraudulent intervention to a system that is ready to blow up from what's already been done to it.
And let's not forget, as I pointed out last summer, that BlackRock funds are already riddled with OTC derivatives, which is why Vice Chairman Barbara Novick has been running around Capitol Hill working to get a bailout mechanism in place for the Depository Trust Company's derivatives clearing unit.
BlackRock Changes The Rules Of The Game Because Of An Outcome It Fears
This move will, in effect, transfer a portion of the risk of BlackRock's riskier mutual funds – derivative-laced high yield and equity funds – to its more "conservative" funds, like high grade, short duration fixed income funds.
Harald Kautz-Vella continues this detailed interview on the alien Black Goo, concentrating on Morgellons, and the existence of "M State" matter. The creatures comprised of the alien black goo related seem to exist in a partial state of matter, not quite in this dimension. Thus implants in people which are in a translucent fluidic matter.
Smart dust is mentioned.
A short clip of something that is claimed to be derived from the alien black goo is shown.
As with all such matters, detailed scientic results and data is required. If we can get it.
Continues in part 3, on the "AI", all computers have a link via an Artificial Intelliegnce
Puerto Rico Bonds Are Collapsing | Zero Hedge
"Surprise"
Puerto Rico's debt is nearly half that of California for a population one-tenth the size...
(via WSJ)
Contact has been lost with the Swedish boat Marianne, which had been leading the Gaza-bound Freedom Flotilla, after other boats turned back - READ MORE
http://on.rt.com/dq5gd2
Sunday, June 28, 2015
Greek Capital Controls Begin: Greek Banks, Stock Market Will Not Open On Monday | Zero Hedge
Update: In a televised address to the nation, Greek PM Alexis Tsipras assured Greeks that their deposits are safe despite an upcoming bank holiday and despite the fact that Greek stocks will not open for trading on Monday. Tsipras also said Athens has re-applied for a bailout extension and urged Greeks to "remain calm" in the face of what is sure to be a turbulent week.
GREEK PRIME MINISTER SAYS GREEK PEOPLE SHOULD REMAIN CALM

GREEK PM: BANK OF GREECE PROPOSED BANK TRANSACTION RESTRICTIONS

GREEK PRIME SAID GREECE RE-APPLIED FOR BAILOUT EXTENSION

GREEK PRIME MINISTER SAYS DEPOSITS ARE COMPLETELY SAFE
Earlier:
Despite the reassurances from any and all elected (and unelected) officials, given the run on bank ATMs in Greece has turned into a stampede, it is not surprising that:
GREEK BANKS TO REMAIN CLOSED FROM MONDAY FOR A WEEK: PIRAEUS BANK CEO
PIRAEUS BANK CEO THOMOPOULOS SPEAKS TO REPORTERS IN ATHENS
The announcement was made when Piraeus Bank CEO Anthimos Thomopoulos told reporters after a meeting of the government's financial-stability panel on Sunday. The launch of capital controls just as the Greek summer tourism season starts, is sure to be the final crushing blow to Greece, whose entire economy will now grind to a halt.
Residents of Athens queuing to withdraw cash from banks across the Greek capital discovered that many cash machines (ATMs) around the city were empty, Sunday. This follows Greek Prime Minister Alexis Tsipras calling a referendum, to be held on July 5, to allow the Greek people to vote on whether to accept or reject the demands of the country's international creditors. Earlier on Sunday, the European Central Bank (ECB) announced that it would not increase emergency funding for Greece. The current ceiling stands at €89bn (£63bn).
Sinister Sites - Astana, Kazakhstan

Astana is the first capital being built in the 21st century and it perfectly represents where the world is headed. It is truly one man's vision: Nursultan Nazarbayev, the president of Kazakhstan (yes Borat's country, I know). Backed by billions of petrodollars, the city is being built from scratch in a remote and deserted area of the Asian steppes. The result is astonishing: a futuristic occult capital, embracing the New World Order while celebrating the most ancient religion known to man: Sun Worship. The city is still a huge construction site, but the buildings that are already completed already sum up Nazarbayev's occult vision.
The Pyramid of Peace
Conceived by Britain's most prolific architect, Lord Norman Forster, this giant pyramid is an odd presence in the middle of the Asian Steppes. The building is dedicated to "the renunciation of violence" and "to bring together the world's religions". Norman Foster has said that the building has no recognizable religious symbols to permit the harmonious reunification of confessions. In reality, the pyramid is a temple for the occultist's only TRUE religion: Sun worship. A journey inside this building is a truly symbolic one. It represents each human's path to illumination. Let's take the tour.
The Pyramidal Shape
"The initiates accepted the pyramid form as the ideal symbol of both the secret doctrine and those institutions established for its dissemination"
-Manly P. Hall, Secret Teachings of All Ages
As Manly P. Hall stated, the pyramid is the ultimate symbol representing the mysteries of ancient civilizations. Sublime in their simplicity, divine in their proportions, they embody both the divine knowledge owned by the illuminated and the bewilderment of the masses. Today's elite, initiated to the occult, are the heirs of this ancient wisdom and use the pyramid as a symbol of power in the modern world. The illuminated/floating/missing capstone represents the divine principle present in the universe as well in each human being. Another symbolic meaning attributed to the missing capstone is the unfinished nature of the New World Order. It is said that the capstone of the Great Pyramid will be reinstated when this age old project will become reality. Here are other pyramids appearing across the world, representing the elites power over the masses.
G-7, EU Banking Officials Hold Emergency Calls Ahead Of Black Monday | Zero Hedge
Now that the Greek parliament has given PM Alexis Tsipras' euro referendum the go ahead (the vote will effectively be a poll on euro membership or, on the choice between sovereignty and servitude if you will, because as the IMF flatly noted on Saturday, the proposal that was supposed to form the basis for the referendum will be null and void by the time Greeks go to the polls) and now that Greeks have pulled another €1 billion plus from the ATMs, capital controls are all but certain early next week, especially now that the ECB has frozen the ELA cap. This means the crisis, to use Irish FinMin MIchael Noonan's words, "has now commenced" and a "Lehman weekend" is indeed underway.
Against this backdrop, multiple "emergency" meetings have been scheduled for Sunday as EU officials scramble to figure out how best to deal with what is likely to be a turbulent week and to consider the financial impact a potential Grexit will have on the currency bloc, its member nations and institutions, and on the global financial system as a whole.
Here's Bloomberg with more:
G-7 deputies to hold conference call Sunday to discuss development of Greek crisis, Handelsblatt reports, citing unidentified euro region official.




Purpose is to inform non-European govts




European banking supervision officials also will hold conference call on situation of Greek banks and possible impact of Greek developments on European financial system




Euro Working Group to hold evening conference call




European Systemic Risk Board to convene immediately after ECB Governing Council meeting: Skai TV
Because of the impending bankruptcy of Greece are on Sunday a series of crisis talks planned. The most industrialized countries (G7) wanted throughout the day to advise on a conference call, said a representative of the Euro zone the Handelsblatt.
Read more:
http://www.zerohedge.com/news/2015-06-28/g-7-eu-banking-officials-hold-emergency-calls-ahead-black-monday


In diesem Vortrag berichtet Harald Kautz-Vella allumfassend seine
Theorie über eine nicht voin der Erde stammende Spezies, welche versucht
die Menschheit unter ihre Kontrolle zu bringen.

Dabei spielen besonders die bis heute nicht als Krankheit anerkannte Morgellon-Krankheit sowie das sogenannte "Black Goo".

Dies
ist ein Material, das seit tausenden von Jahren in den Mythologien
präsent ist und dem ein ausserirdischer Ursprung nachgesagte wird. Und
tatsächlich findet sich dieses Material dort wo es geologisch ansteht in
Assoziation mit Meteoritenkratern. Der Umgang mit diesem Stoff wurde
sehr kontrovers diskutiert. Auf der einen Seite lag ein Zusammenhang mit
der Morgellonschen Erkrankung im Bereich des Möglichen, und es bestand
Hoffnung, dass das Black Goo im Rahmen der Entwicklung eines
Therapeutikums ein Rolle spielen könnte. Eine Radionische Testung ergab
bei den "Probanden" eine 100%ige Anbindung an das Bewusstseinsfeld
dieses Materials, das in der NS-Zeit als "magische Steine" gehandelt
wurde, das sich als kalt, empathiefrei und herzlos entpuppte.
There are 2 forms of Black Goo, one made by the earth, and another that was landed here by intention, in a a meteor swarm, 80,000 years ago. Both are sentient and are designed to create life from the materials on the planet. In simple terms, its a "seed" device.
The intelligence that seeded the off world goo, is creating life that is bypassing the natural order, and bringing lifeforms to a higher level of order than they should naturally be. In this case BIG spiders.
In this first of 3 parts, German researcher and discusses smart dust, and the Black Goo. Use of Scalar Physics is discussed, so you will have to pay attention. This is about an extraterrestrial, dimensional Predator species that is silently assimilating humanity, and all life on earth.
These interviews are released for free, as a public service, by the Bases Project. See also Bases 17,18 and 25. the next day Harald presented his findings to the Woodborough Conference, for Bases, see separate upload. He will be present at Bases International Conference and Film Festival, July 31st-Aug 2nd at The Theatre On The Hill, Marlborough, Wilts
Harald is co-author with Cara St Louis of Dangerous Imagination, Silent Assimilation.
Below the floor of the Temple of Dendara in Egypt there are secret chambers that the general public never saw during dynastic times. Come with us in April 2016 and see them for yourself:
www.khemitology.com
ARE YOU SERIOUS???
If you have not seen the raw arrest footage of Dylann Roof yet, you have to see this. No cops ever would act this way apprehending a possibly armed and dangerous mass shooter. There is no way anyone can tell us this event isn't staged and scripted now.
Text of H.R. 1295: Trade Preferences Extension Act of 2015 (Passed Congress/Enrolled Bill version) - GovTrack.us
I
Extension of African Growth and Opportunity Act
101.
Short title
This title may be cited as the AGOA Extension and Enhancement Act of 2015.
102.
Findings
Congress finds the following:
(1)
Since its enactment, the African Growth and Opportunity Act has been the centerpiece of trade relations between the United States and sub-Saharan Africa and has enhanced trade, investment, job creation, and democratic institutions throughout Africa.
(2)
Trade and investment, as facilitated by the African Growth and Opportunity Act, promote economic growth, development, poverty reduction, democracy, the rule of law, and stability in sub-Saharan Africa.
(3)
Trade between the United States and sub-Saharan Africa has more than tripled since the enactment of the African Growth and Opportunity Act in 2000, and United States direct investment in sub-Saharan Africa has grown almost sixfold.
(4)
It is in the interest of the United States to engage and compete in emerging markets in sub-Saharan African countries, to boost trade and investment between the United States and sub-Saharan African countries, and to renew and strengthen the African Growth and Opportunity Act.
(5)
The long-term economic security of the United States is enhanced by strong economic and political ties with the fastest-growing economies in the world, many of which are in sub-Saharan Africa.
(6)
It is a goal of the United States to further integrate sub-Saharan African countries into the global economy, stimulate economic development in Africa, and diversify sources of growth in sub-Saharan Africa.
(7)
To that end, implementation of the Agreement on Trade Facilitation of the World Trade Organization would strengthen regional integration efforts in sub-Saharan Africa and contribute to economic growth in the region.
(8)
The elimination of barriers to trade and investment in sub-Saharan Africa, including high tariffs, forced localization requirements, restrictions on investment, and customs barriers, will create opportunities for workers, businesses, farmers, and ranchers in the United States and sub-Saharan African countries.
(9)
The elimination of such barriers will improve utilization of the African Growth and Opportunity Act and strengthen regional and global integration, accelerate economic growth in sub-Saharan Africa, and enhance the trade relationship between the United States and sub-Saharan Africa.
103.
Extension of African Growth and Opportunity Act
(a)
In general
Section 506B of the Trade Act of 1974 (
19 U.S.C. 2466b
) is amended by striking
September 30, 2015
and inserting
September 30, 2025
.
(b)
African Growth and Opportunity Act
(1)
In general
Section 112(g) of the African Growth and Opportunity Act (
19 U.S.C. 3721(g)
) is amended by striking
September 30, 2015
and inserting
September 30, 2025
.
(2)
Extension of regional apparel article program
Section 112(b)(3)(A) of the African Growth and Opportunity Act (
19 U.S.C. 3721(b)(3)(A)
) is amended—
(A)
in clause (i), by striking 11 succeeding and inserting 21 succeeding; and
(B)
in clause (ii)(II), by striking September 30, 2015 and inserting September 30, 2025.
(3)
Extension of third-country fabric program
Section 112(c)(1) of the African Growth and Opportunity Act (
19 U.S.C. 3721(c)(1)
) is amended—
(A)
in the paragraph heading, by striking
September

30

,

2015
and inserting
September

30

,

2025
;
(B)
in subparagraph (A), by striking September 30, 2015 and inserting September 30, 2025; and
(C)
in subparagraph (B)(ii), by striking September 30, 2015 and inserting September 30, 2025.
104.
Modifications of rules of origin for duty-free treatment for articles of beneficiary sub-Saharan African countries under Generalized System of Preferences
(a)
In general
Section 506A(b)(2) of the Trade Act of 1974 (
19 U.S.C. 2466a(b)(2)
) is amended—
(1)
in subparagraph (A), by striking and at the end;
(2)
in subparagraph (B), by striking the period at the end and inserting ; and; and
(3)
by adding at the end the following:
(C)
the direct costs of processing operations performed in one or more such beneficiary sub-Saharan African countries or former beneficiary sub-Saharan African countries shall be applied in determining such percentage.
Read all:
https://www.govtrack.us/congress/bills/114/hr1295/text